It was around this time last year that I realised Moz was about to reach the 10 year mark. As a member of the community since 2009, I have always been inspired by Moz's journey and Rand's openness about their struggles along the way. In my opinion, it's this commitment to transparency and a genuine interest in cultivating a collaborative community of marketers that really sets Moz apart from any other brand in the online marketing space.
Needless to say, Moz's journey is a story worth telling. In this post I'll explore the background behind putting Moz's animated video together and feature special interviews with Rand Fishkin, Will Critchlow, Mike King, Phil Nottingham and Chris Savage on their special connection to the company.
Idea Behind The Video
Whilst there has been a number of wide ranging articles, interviews and presentations on the topic, I felt there was still value in bringing Moz's story together into one piece of content. At the time I was working for simpleshow, an explainer video agency specialised in short handcrafted animated videos. The idea behind this type of video is simple: explain your topic within 3 minutes so that it is clearly understood by any audience. The tricky part, however, is compressing a long and complex topic into a short engaging story, visualising it onto a storyboard and then transforming it into an animated video.
Despite the challenges, this felt like the ideal medium to communicate Moz's story and a great opportunity to showcase simpleshow's explainer video expertise to the online marketing world. Before I could get started on researching and putting the concept together though, I first reached out to Jen Lopez from Moz to make sure I would have their support on the project. Jen and Aaron Wheeler were fortunately kind enough to provide valuable feedback throughout the project and for that I really must thank them.
Four Key Production Steps
Producing an animated explainer video can surprisingly be a fairly long and complicated process. It can however be divided into four steps:
Research: when it came to researching Moz's journey, there was an abundance of material available. The challenging part was reducing this mass of information to the bare essentials and crafting it into an amusing and coherent story. I was fortunate enough to work with a talented (and ruthless) script writer called Jan who helped shape the story and cut out any excess details or events. It's fair to say that without his input, the video could have easily been made into a short biopic. It really helps though to start out with more information and then ask yourself if the story would really lose anything by cutting certain details or even entire scenes. When it came to condensing 10 years of Moz into a 3 minute video, we unfortunately had leave out a few details…
Script: once the core elements of the story had been figured out, it was then time to separate them into related scenes and put the script together. Whilst it was tempting to stick to a purely chronological sequence of events, it quickly led to a very uninspiring way of telling a story. We instead opted for a combination of  key events and topically related themes that naturally followed each other.
Storyboard: this was the fun part! Rand's official title as 'Wizzard of Moz', Seattle's Grunge history and Gillian Muessig's Twitter handle (SEOmom) provided plenty of inspiration for subtle visual references.
Production: and just in case you wondered, all of the illustrations were hand drawn on graphics tablets, printed, cut-out with scissors and actually moved around by a talented hand model against a white background. The scenes were then cut together with added sound effects and the voice over script to produce the finished explainer video.
 The video: Celebrating 10 Years of Moz
---
The Interviews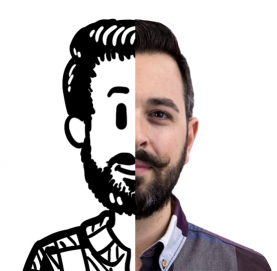 Rand Fishkin, Wizard of Moz
– Congratulations on Moz turning 10 this year! What would you say have been the defining factors in getting Moz to where it is today?
Thanks! It's been a long, tough journey, but one filled with a lot of remarkable learnings and equally remarkable people.
If I had to guess (and really, these are guesses, as I don't think anyone can accurately or comprehensively identify all the reasons for a success or failure), these would be my top 4:
#1 – Right place, right time.
We got into SEO at a time when the field was very challenging to navigate and understand, but had huge numbers of people trying to learn and apply their knowledge professionally. That created a huge opportunity for the company.
#2 – Good people with shared values.
Moz hired based on our core values – TAGFEE – and that's served us well. Like any company, we've made mistakes and had a few wrong folks on the team at times, but overall it's been a wonderful group of people who care deeply about the mission and their own contributions.
#3 – Strong empathy for SEOs.
Moz (the software company) was founded by a team that had done SEO consulting for the 5 prior years, and we continued the consulting practice into 2009. Even after 2009, we kept very strong connections with many in-house and consulting SEOs, and helped a lot of businesses and non-profits informally. This closeness with the people using our software and consuming our content helped make the company's products and content a good match for our customers.
#4 – A remarkable community of contributors and amplifiers.
The SEO world is filled with awesome people who love to help each other and help share good stuff. As we produced things they felt were worthy – tools, content, ideas, research, etc – this community helped us reach a much bigger audience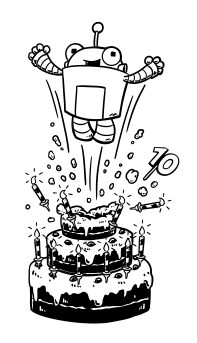 organically, for free, and of their own volition. That's an incredibly powerful ability, and a rare one in many other fields.
– The rebrand was a big announcement last year. Was it a difficult decision to make? Did it go to plan?
It wasn't a super-difficult decision, though in retrospect, it probably should have been 🙂 The rebrand itself went well, though the subsequent product release of Moz Analytics left a lot to be desired. We launched in a barely working, alpha stage (despite 2 years of work on that product) when we probably should have polished it up much more before putting it out for customers. I also think we made a critical mistake trying to focus on serving a few basic functions in a number of areas (social, brand mentions, links, traffic stats, etc) rather than concentrating on being the best in the world at SEO functions, then moving on to social, traffic reporting, etc. We took on too much at once.
Nowadays, we're much more focused on fixing that and you can see a large number of new features, upgrades, and greater stability/accuracy around the SEO portions of our software.
– How have you found the transition from 'CEO' to 'Wizard' of Moz? Are you enjoying your 'Wizard' duties and what has been the biggest change?
I've struggled somewhat, but I believe it was and is the right move. I didn't like the HR and management functions that come with a larger team and company, and getting back into the work of marketing, product development, and research has been enjoyable.
– How important has the use of video been in building the Moz brand & community? What would your advice be for people considering it?
I'm a huge believer in video for the right company and the right audience, but it doesn't work for everyone. You need to find a way to make video augment your strengths and play to your audience's needs/wants or it won't be a match. I gave a presentation at Wistiafest this past year called 20 Ways Moz Makes Video Work that you can watch online for free. That gets into a lot of the nitty gritty of what's been effective for us and why.
– Where do you see Moz ten years from now?
10 years is so far out it's almost impossible to imagine! If I had to guess, I'd say that the company will likely be either a public, independent company, or it will have been acquired (once you take on venture capital, as we did in 2007 and then again in 2012, that's the path you're on). Hopefully, Moz will still be working to make SEO, social media, content, and other forms of inbound marketing more transparent, accessible, and measurable.
---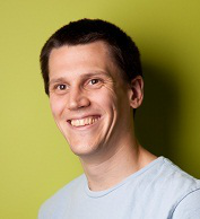 Will Critchlow, Founder & CEO Distilled
– How did you first discover SEOmoz? What were your first impressions?
That's lost in the mists of time I'm afraid. It could well have been through mine and Rand's involvement in cre8asite. I loved getting involved in the comments and discussions. The open discussions and transparency pulled me in immediately.
– How did you start getting involved with SEOmoz? Who influenced you and what motivated you to start?
SEOmoz felt at the time like a company 18 months ahead of us in size, number of people etc. We got to know the whole team at the time and spent countless hours chatting with Rand and Gillian about growing companies.
Ultimately though it was the community that kept me engaged. I made so many friends through moz comment discussions back in 2006 and 2007 particularly who are still close friends today.
– What has changed most about Moz since you first got involved?
The biggest change internally of course is the business model. Moz was a consultancy when we first got to know them. It was only later that the tools and subscription business got started and took off.
Externally it's probably the changing role of social media that has changed the experience the most. Back then, the moz comments section was the equivalent of twitter today for industry discussions.
– Where do you see Moz ten years from now?
Ten years feels like forever in internet terms. I'm going to go with an IPO. Moz will be public in 10 years.
---
Mike King, Founder & Digital Marketing Consultant iPullRank
– How did you first discover SEOmoz? What were your first impressions?
I'd been doing SEO for about 4 or 5 years before I had any real inclination of there being a community. I'm a developer by trade so I always just hit "view source" whenever I needed to find something in the code. I was in an interview at an agency in Southern New Jersey called Webimax and the gentleman was reviewing a site that I built and he was using this magical toolbar to see the title length and the H1 and all of that. I was simply amazed that there was software for SEO other than rank checkers honestly. He mentioned "Mozbar" when he was showing me and I immediately searched for it when I got him. I found the blog and was just like wow, this is everything I've been missing all this time. I was pretty good at SEO at that point and was getting great results for clients, but I never really felt like I truly knew what I was doing until I started coming to the site and I read the Art of SEO.
– How did you start getting involved with SEOmoz? Who influenced you and what motivated you to start?
Thinking back the whole thing was an exercise in serendipity. One of my best friends and rap partners is a gentleman by the name of Daniel Muessig who, quite naturally, is the nephew of Gillian Muessig aka SEOmom. One day we were on tour riding a train through Sweden and he says to me "Yo, Mike, so I know your doing that SEO thing. You should reach out to my cousin in Seattle he has a software company." I was like "Ummmm…who's your cousin?" He's like "His name's Rand Fishkin." Shortly thereafter I did indeed reach out, asking him how to get started in blogging. He sent me a very thoughtful email giving me some advice of really focusing on a niche.
Jen Lopez loves telling this part of the story. Towards the end of my tenure at Razorfish I wrote a post for YouMoz. It was a really, really, really bad post. It was a rant about how there was no information on some mobile meta tag or something. It was bad, whatever it was. Somewhere during all of this I met Rand, Geraldine and Jen at a Moz meetup, but Jen politely rejected my post and invited me to try again. So I did and the post I ended up writing became pretty popular. Somewhere during all of this I met Rand, Geraldine and Jen at a Moz meetup in NYC. At that point, then Moz CMO, Jamie Steven reached out to me because he realized that we'd worked together before. Turns out he and I were high school interns at Microsoft in 95 and we were featured in the company newsletter for building this website that was a network for all the interns. At that point I knew I had to go to MozCon so I paid for myself and got to know and hangout with the whole team. Before I left I expressed interest in being involved and a few months later they made a Moz Associate.
– What has changed most about Moz since you first got involved?
They've grown pretty dramatically and a some of the awesome people that I first interacted with have moved on to new challenges. Luckily, Moz is very good about finding new awesome people to pick up where they left off. The product is also quite different, but I'm happy to see how they are evolving and I look forward to further innovations.
– Where do you see Moz ten years from now?
I know a lot about the roadmap so it's hard for me to say without giving some things away. However what I would love to see them do is make the product suite more complete so I don't have to use other SEO tools. I'd like to see them acquire more of the other stuff I use and build it in. I'd like to see them bring the marketplace aspect of a lot of other startups to Moz. That is to say there is a huge network of SEOs that visit Moz, and they do have the curated recommended list, but it'd be cool to login and say I need a vetted resource for link building who is the highest rated on Moz that I can get right away. However after being a user, fan and Associate for so long I trust that they have some good ideas up their sleeves.
---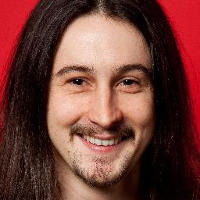 Phil Nottingham, Senior Consultant & Video Strategist at Distilled
– How did you first discover SEOmoz? What were your first impressions?
I saw Rand speak at a conference just before I joined Distilled. I first impressions was that everyone else in the room knew who this chap was, except me. I was also impressed by his beard.
– How did you start getting involved? How did your first projects go?
As a Distilled employee, I was encouraged to get stuck in with the Q&A and comments, then was able to write my first post a few months into my involvement with the communitiy
– Would you say your Rand impressions (example) have gotten better or worst over time? What might others say?
I have no idea…. probably worse.
– What has changed most about Moz since you first got involved?
Not sure. I guess they've grown a lot in terms of their audience base and the size of the company
– Where do you see Moz ten years from now?
Probably better to ask those who work there :)… I'm not privvy to the vision.
---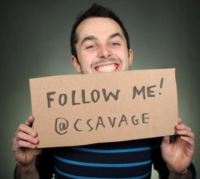 Chris Savage, Founder & CEO at Wistia
– How did you start getting involved? How did the relationship grow?
Moz is full of givers. One of my first real interactions with the Moz team was in 2010 when they were poking around Wistia. I was extremely excited and flattered that Rand and the team would give Wistia a shot. We were just starting to figure out the product but there were still gaps and we were only a four person team at the time.
Instantly as we got to know the team at Moz they started introducing us to other people, featuring us in blog posts, and generally helping anyway they could. Someone from Moz would email into support and somehow they would end up helping us way more than we could help them. The world is a better and more generous place with Moz in it.
---
Anything else you would like to share from your own experiences? Please share in the comments below!